---
DISC LABEL GUIDELINES



CD & DVD On Disc Label
Suggestions: 300 dpi or more, .tif, .eps files good for printing, eliminate guidelines from final graphics,
leave center solid so we can knockout tight fit hole, outside bleed of 1/8 "
Questions? Call (818) 707-8986

PDF
Photoshop

Send For Photoshop Template at
csound@csoundcorp.com

RECORD LABEL
PRODUCTION LOGOS
Here are some important logos we offer at no charge for the production of your Cd, DVD or artwork.
FILES REQUIRED:
Please send finished label files with appropriate program adjustment for CMYK (full color) or Spot Colors (Pantone Ink Numbers).
CONVERTING CD LABEL FILES TO SPOT COLORS:
A good method is to create the art in a drawing program, like Illustrator or even Freehand. If Photoshop is the only option, you will need to create a multichannel file - one channel for each color. This option is in the Channels menu -"New Spot Channel". To create a channel select all areas of the specific color, then in the channels menu go to New spot channel and label that channel the desired PMS color-PMS colors may be selected from the "custom" option of the "color picker". Repeat this process for each color.
Programs like QuarkXpress have the Pantone spot color option.
FILM REQUIRED:
Positive, right reading, emulsion up.

Separate film for each color and must be identified with a reference or ID number AND color (Pantone number, process color, etc.)
---
COLORS:

Knockout all under-printed colors and provide at least 112 point overlap between adjoining colors.
Black is the exception and should be selected when fine linework or text is to overprinted.
The artwork must include a small registration mark ("+") at the center of the hole in the disc for the alignment of more than one color.
Four-color process printing is standard.
Color matching of PMS colors is available.
Due to the transparent nature of CD ink, we make no guarantees to match all colors when printed over the silver disc or other colors. Colors may be printed over a white background for an absolute accurate color match.
Silk screening is up to five colors on a disc.
Printing will be directly on the silver CD unless you clearly indicate white doughnut background on your printout.
---
LINE WIDTH AND TYPE SIZE
Minimum line width no thinner than 0.15 mm (approx. 1/2 point) and 0.30 reversed (approx. 1 point).
Minimum text size is 4 points (6 points reverse).
For four-color process printing, minimum line width is 0.30 mm, minimum text size 8 points.
Screen ruling: 85 lines per inch.
---
Production Control Number (PCN) is molded between the 38 mm and 45 mm diameters.
Total possible print area is shown in diagram. This measurement is 18 mm - 117 mm except for a 4mm band between 32 - 35 mm.
The Compact Disc logo must appear on the disc to assure consumers that the disc conforms to relevant specifications. There are no requirements as to the size or location of the Compact Disc logo.
NOTE: You may use this drawing as a basic template, but be sure to carefully check the NUMERIC dimensions to be sure the compact disc artwork is within the proper specifications,
| AREAS TO CONSIDER | METRIC DIAMETERS |
| --- | --- |
| Total Disc | 120 mm |
| Reflective Coating | 45 mm - 117 mm |
| Outer Printable Area Limit | 117 mm |
| Metallized Information Area | 38 mm - 45 mm |
| Disc ID Mirror Band | 38 mm - 45 mm |
| Stacking Ring | 32 mm - 35 mm |
| Inner Printable Area Limit | 3 mm |
| Disc Hole | 15 mm |

Important: Due to variances between manufacturing plants, please call office at 818-707-8986 to confirm your Disc LABEL Specifications!
---
RECORD LABEL ARTWORK & FILM GUIDELINES
FILM SPECS:
Negative, emulsion down, right reading (no grayscale art).
---
COMPUTER SPECS:

Quark or Illustrator for the Macintosh preferred.
---
GENERAL GUIDELINES:

DO NOT INCLUDE KEYLINES (black lines indicating edges of label).
Please include a center mark and registration marks.
All background images should bleed 1/4 inch.
Please keep all type at least 1/8 inch from the outside cut edge and from the center hole.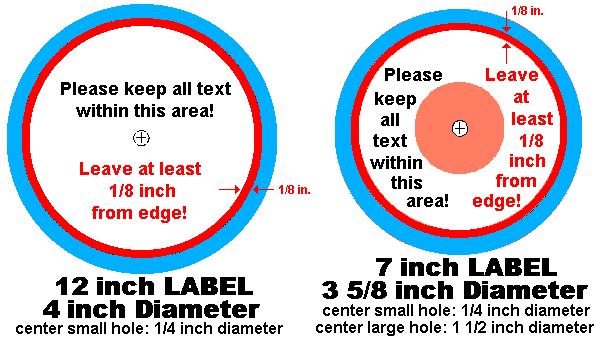 Deviations from these SPECS may result in additional charges!
---